Custom Haikyuu for car accessories
Have you purchased a vehicle? Is there bewilderment in your mind about the options for the vehicle car accessories? The following information will help you make the most prudent decisions. Personalized car accessories can improve the overall look of your vehicle and impart an element of your character. Interior and exterior car accessories may be used to add a stylish flair to your car, or they might serve to safeguard it. When selecting vehicle car accessories, there are many factors to be considered. Anime Car Accessories have become popular, with many young people liking them due to their interesting design. Customers can personalize their car accessories by choosing from the multitude of styles inspired by the Anime characters. Haikyuu Car Accessories is a top-rated assortment.

Haikyuu Car Accessories include interior and exterior car accessories with design elements inspired by the anime characters. You can readily locate character-style vehicle car accessories. Consequently, straight out of the gate, the collection got a great deal of favorable feedback from consumers, particularly anime fans. The catalog has items for both indoor and outdoor use, plus it gives consumers numerous choices. These designs get extra marks with consumers because of the color mix. The characters in the narrative are represented via the designs, which allow you to exhibit your own style while keeping your character identity modest and imaginative. Every character has their own distinct style and personality, and none can be compared to any others. Haikyuu Car Accessories' style is trendy. Ezcustomcar keeps you fashionable by bringing the newest design trends to your car's interior design process, providing a contemporary and hip appearance. Besides, every one of the designs displays many styles, and you may convey your style via them.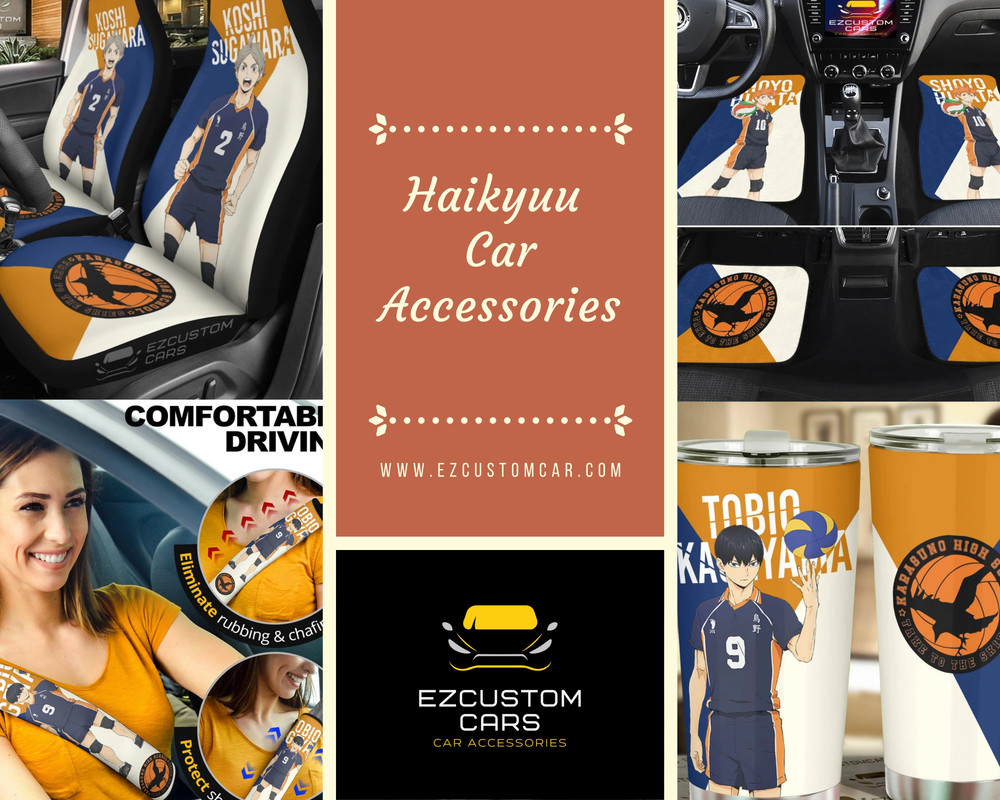 The excellence and usefulness of these car add-ons help bring them closer to consumers. You and your passengers will get a fantastic ride with these additions. The inside of the car is constructed of high-quality materials, so it is pleasant and comfortable with
Haikyuu Car Accessories
. Haikyuu Seat Covers, Haikyuu Car Floor Mats, and other auto-focused gear are constructed of waterproof, anti-fog materials to help maintain a nice-looking and fresh interior in your car. The Haikyuu Vehicle Sunshade (and other exterior car accessories) will serve as a defensive barrier for your car, protecting it from outside elements. Vehicle car accessories not only make your automobile seem classier and more stylish, but they also serve a vital function in safeguarding your car from outside influences, keeping it fresh and new.
Ezcustomcar
has a range of Haikyuu Car Accessories designs for you to browse.