Dragon Ball Car Accessories
Dragon Ball Z Car Accessories
Car accessories, including interior and exterior accessories, have become the most popular car owners in recent years. The importance of car accessories cannot be overstated. This kit is an absolute must-have if you want to improve the overall look of your vehicle. At the same time, they contribute to maintaining the freshness of your car by protecting it from bad influences from the outside. One of the most popular car accessories among young people today is Anime Car Accessories, with various models. This is one of the styles appreciated for the uniqueness and ingenuity that each of its designs embodies. Designing car accessories with anime themes and aesthetics is often a work of love as each character's looks and personality traits are used to launch subsequent collections. You won't want to miss Dragon Ball Car Accessories if you like the logo or characters of the Dragon Ball Z series, one of the most popular series in the Anime world.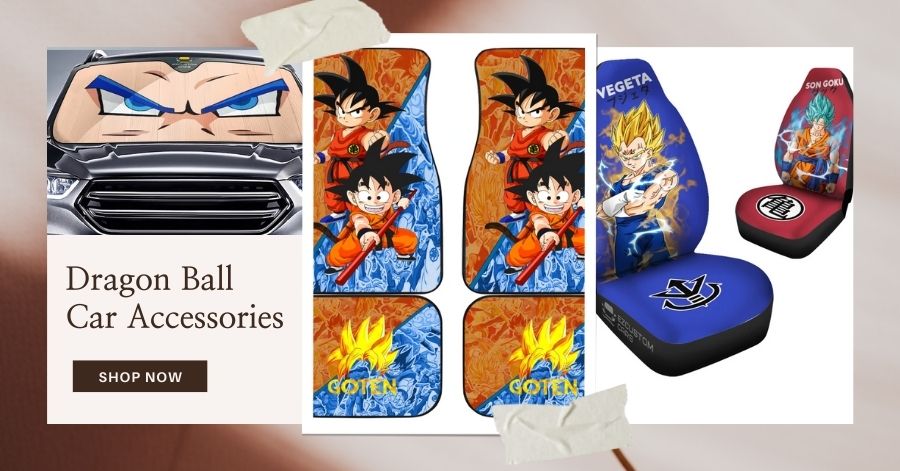 The Dragon Ball line of car accessories attracts the attention of consumers due to its wide selection. Product models and colors are available in this collection. To create a sense of familiarity for consumers, especially fans of the Dragon Ball Z anime series, Ezcustomcar has conveyed the image and style of each character in the Dragon Ball series through each design. The collection offers a wide range of accessories for the inside and outside of your car, all designed to give your vehicle a new, unified look. You can quickly discover exquisite and one-of-a-kind home decor items such as Car Floor Mats, Car Seat Covers, car sunshade, custom inspired car decor items Dragon Ball anime series ... This will help your interior area be more uniform and different ... One of the essential factors contributing to Dragon Ball Z Car Accessories scoring with consumers is accessory color. Among the many advantages of any design is the ability to express itself through color. Each design is inspired by each character's main outfit and comes in various styles, giving your vehicle a completely different and fresh look. The design of each accessory is also updated to reflect the latest fashion trends to provide consumers the best possible experience. Constantly youthful and contemporary designs bring this collection closer to young consumers who are always looking for ways to express their individuality and sophistication.


Furthermore, when it comes to winning over consumers, quality is an absolutely important aspect that needs to be considered. Thanks to high product quality, Dragon Ball Car Accessories has conquered even the most demanding customers. In addition to their aesthetic function, auto accessories also play an essential part in maintaining the overall safety and security of the vehicle. Therefore, quality and other criteria are crucial. Primarily for exterior accessories such as car sunshades, consumers are often concerned with the quality of the product as they will protect the vehicle from adverse environmental conditions. To better understand the psychology of customers, Ezcustomcar always focuses on quality throughout the production process, from the selection of input materials to the delivery of the highest quality goods to customers. You can view more different items from the Dragon Ball Car Accessories collection on Ezcustomcar.com and then choose your favorite from this Dragon Ball collection.

Enjoy your shopping at ezcustomcar.com and email us if your order has any issues!