At now, the burgeoning automobile industry has many options for consumers, with cheap cars and luxury vehicles being available. In addition to the advancements, consumers also have numerous concerns regarding the vehicle interior options. Rather than helping you safeguard your vehicle, interior options can allow you to show off your individuality and preferences. You can't fail to notice car floor mats in your interior. Ezcustomcar has a selection of unique car floor mat designs, all available in various styles. let's have a look at the proposals.

FLOOR MATS FOR CUSTOM CARS.

Car floor mats are basic carpets used in vehicles to help maintain your vehicle while making the passengers' journey enjoyable. Vehicle floor mats are a need in the inside of your car since they are regarded as a top priority for practical reasons. Aside from the classics, today you can also choose automobile floor mats according to your style and tastes at Ezcustomcar.com. Driving in style and personalizing your automobile floor mats also enables you to show off your own personality. You'll also be delighted with the quality of the custom floor mats. These cushy, slip-resistant carpets are the clear benefits of Ezcustomcar's designs.

CAR FLOOR MATS FOR ANIME LOVERS.

The fact that anime is the preferred genre of the audience means that it's not at all unexpected that the anime fan population is enormous. Ezcustomcar designed Anime Car Floor Mats to accommodate these considerations as well. These mats are modeled by famous Anime characters. This distinctive style and color of the mats are unmatchable with others on the market. Rather than picking traditional vehicle floor mats with a plain pattern and basic color, you may now choose from a wide range of different and creative colors to make your car more fun to drive. Auto floor mats Custom based on popular anime series like Akatsuki and Naruto are constantly in high demand. Furthermore, consumers have commented positively on the versatility of these products.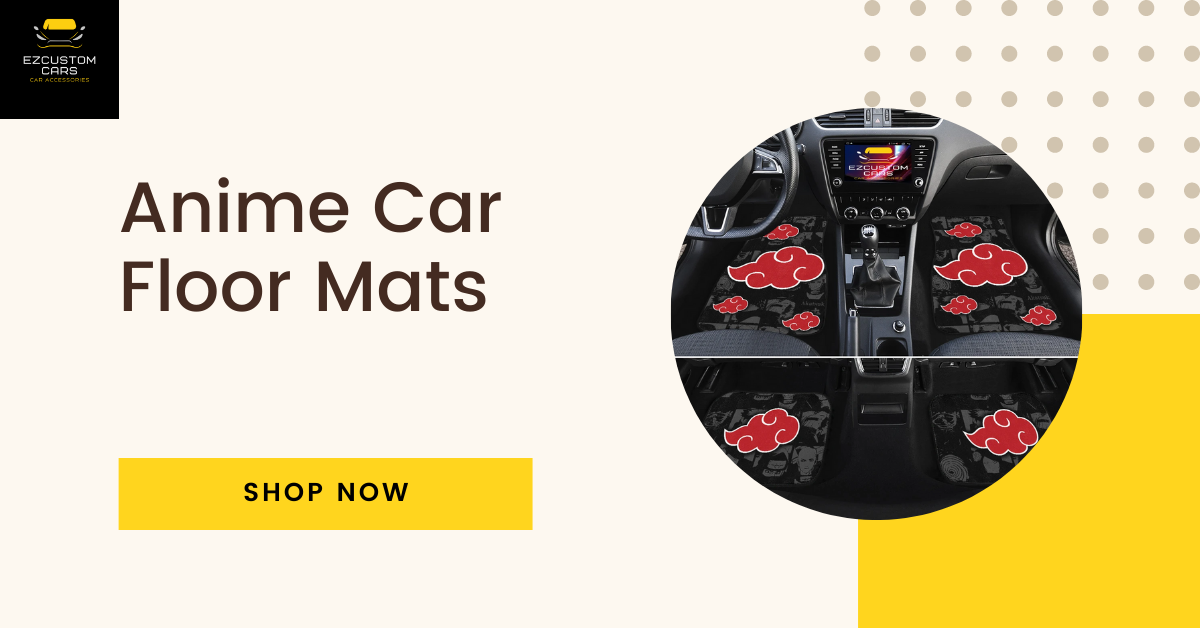 View more: Anime Car Floor Mats

CAR FLOOR MATS FOR NURSES

Nurse Car Floor Mats are reminiscent of the picture of a kind and caring young nurse. And that's not all: the textures and colors of these designs provide consumers with exceptional visual experiences. Many choices are available to consumers because of distinctive textures and various hues. These products also include a variety of designs, ranging from youthful to contemporary. Floor mats for cars are also known to draw notice thanks to another reason.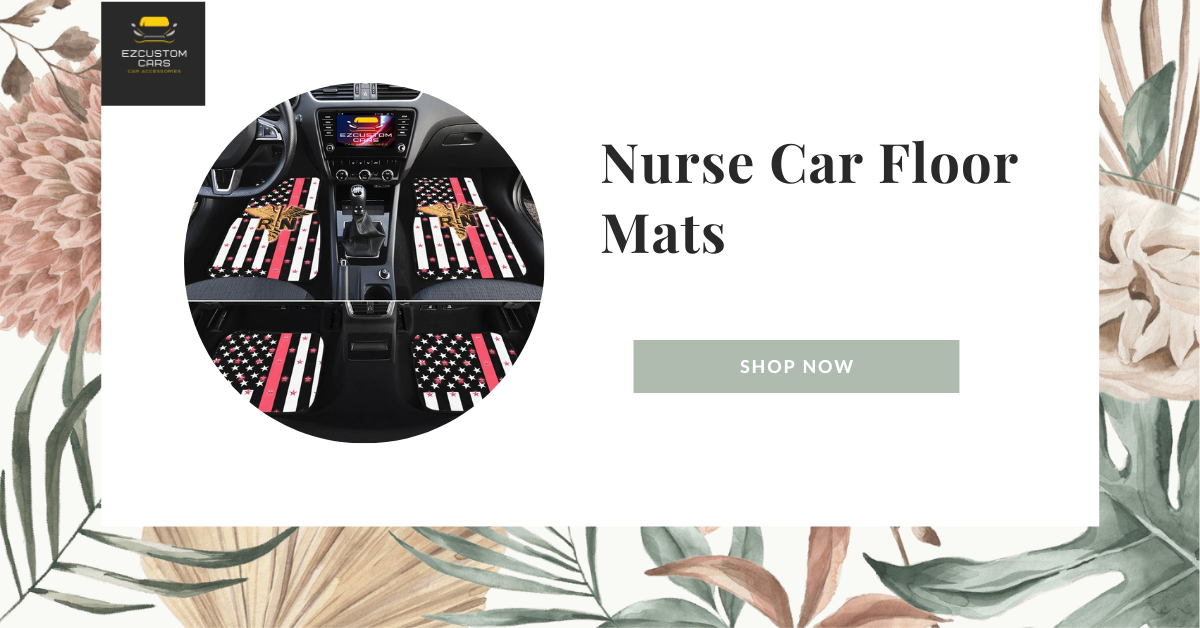 View more: Nurse Car Floor Mats

CAR MATS FOR FIREFIGHTERS

Firefighter Car Floor Mats are an appealing option for macho guys. These designs exhibit the ability of males to be resilient and strong. Nothing beats a personalized interior in your vehicle. This is one of the aspects that assist to reflect your distinct style. Furthermore, these mats are designed to provide excellent user experiences. In the first place, its soft texture offers a comfortable sensation to your feet. Furthermore, the anti-slip substance or the ease of cleaning also works in favor of the consumers since it comes with these car floor mats.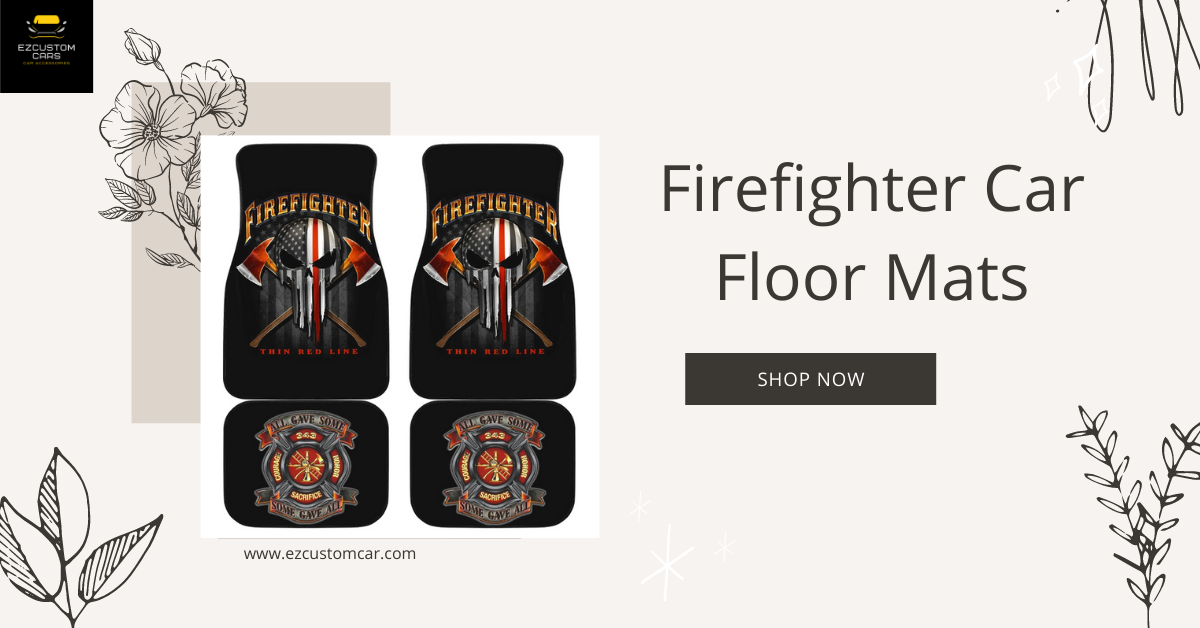 View more: Firefighter Car Floor Mats

CAR FLOOR MATS FOR WOLVES

Wolf automobile floor mats capture their strength and might, as implied by their name. Wolf car floor mats, based on the appearance and personality of wolves, also aim to provide power and vitality to your vehicle. The Wolf's natural intelligence and talent for managing the pack is also known for its clever nature and helps you better express your own style when you choose Wolf floor mats.
View more: Wolf Car Floor Mats

LION CAR CARPET FLOOR MATS

One of the standout characteristics of Lion vehicle floor mats is the print of the king of the jungle on the carpet. The floor mats were made to reflect the might of the jungle's jungle king. If you are a charismatic person, then a customized floor mat will show off your style.
View more: Lion Car Floor Mats

FLOOR MATS FOR DRAGONS

The company, Ezcustomcar, aims to communicate a message that is comparable to a "strong as dragons" saying via this design. Additionally, they like the quality of Dragon automobile floor mats. Customers always want their flooring to be tough and soft, and these designs always meet their expectations.
View more: Dragon Car Floor Mats

FLOOR MATS FOR BUTTERFLY CARS

You may make your car's interior much more attractive and fresh with the assistance of Butterfly Car Floor Mats. Rather than just the usual basic black floor mats, these designs allow you to completely express your creativity and personality.
View more: Butterfly Car Floor Mats

WHY IS IT IMPORTANT TO HAVE CAR FLOOR MATS?

It is essential to have your own customized car floor mats for the following reasons.

Enhance the inside of your vehicle with visual enhancements.
It is essential to make your vehicle attractive, elegant, and sophisticated, and one way to do that is by decorating the inside. These designs are very important, and you should not dismiss them. In addition to being functional, these car floor mats are also very easy to change frequently to give your vehicle a fresh appearance. The floor mats themselves assist to enhance the attractiveness of your vehicle by keeping it cleaner, and they also provide a convenience factor in cleaning and maintenance.

Let your own style be known.
And, of course, young people have set their own trend, using customized vehicle mats instead of conventional floor mats. Interior floor mats allow you to clearly show your character and your preferences. The patterns, colors, and textures of the floor mats provide a glimpse into your own preferences and tastes. This helps you create a good impression on people.

Keep yourself healthy.
Keeping your car's interior clean and tidy is good for you and for the others who ride with you. Having easy-to-clean floor mats may be convenient for you. Moreover, the vehicle mats are often constructed of water-resistant, anti-slip material, which allows you to clean them more easily.

The feel of car floor mats.
People frequently forget that one of the structures of car floor mats is not always evident. However, this is among the key elements in comprehending them, making them more usable and serviceable.

It is typically made up of the following fundamental layers: rubber, PU leather, foam, sponge, molded cushion, XPE, and anti-slip. The many layers each play an essential function and impact the performance of products, delivering positive customer experiences.

WHICH FLOOR MATS ARE THE BEST TO USE?
Choosing the appropriate and finest vehicle mats necessitates paying attention to a few of the following factors:

Colour
Car floor mats should be selected carefully based on color. To coordinate the color with the inside of your car, you should choose something that matches the general interior design. If the vehicle mats' color doesn't match the rest of the
car's interior, it will make the area disorganized and ugly. Additionally, color is a very delicate element. Choosing a hue that's on the mellow side, not garish, will save you the time and effort of having to maintain it spotless.

Material
Choosing the correct floor mat material is the most important element of a floor mat selection process. Today, there are many various types of car floor mats on the market. Every substance has its own pros and cons. You must choose a design that fits your requirements and objectives. At now, leather, rubber, and felt materials are the most popular and trusted by consumers.

leather goods
As for the inside of your vehicle, leather car flooring mats may provide beauty and sophistication. Customers are picking this material above the others. In addition, this material has other flaws, including a high price, difficulties with maintenance, and sanitation.

rubber substance
Do you know anything about rubber vehicle floor mats? As opposed to being very expensive and having little appeal, this substance is both inexpensive and much sought after. This kind of roof also waterproofs, protects and sanitizes the inside of the vehicle. While leather is more popular, rugs made of this material are not as stylish.

touchable fabric
Since felt is a sturdy and inexpensive material, it is an excellent choice for projects using a thick felt material. On the other hand, this kind of carpet isn't popular since it's not waterproof and is very easily cluttered with dust. Another disadvantage of carpets made of felt material is their lack of appeal.

Aesthetics are key in the sense that they assist you to develop your car's interior space and reflect your fashion sense, personality, and personal preferences. Don't let this go overlooked.

Supplier
Decide which provider would provide the finest floor mats for your car. When you want a trusted partner with knowledgeable personnel, you can depend on them to provide great options. Never hurry to choose a vehicle floor mat because it is nearby or inexpensive
Where can you get car floor mats?
At now, Ezcustomcar has a variety of floor mat designs and colors that suit various client requirements. You may choose the style of your vehicle mats at Ezcustomcar.com, the website that Ezcustomcar recommends.

CONCLUSION
For those who want floor mats that represent their style and individuality,

If you have a website, be sure to visit it every day. Do you know about all the fantastic things you have to discover?