Bungou Stray Dogs Car Accessories
Bungou Stray Dogs Car Decoration Accessories
Bungou Stray Dogs Car Accessories is based on the plot and characters of the same-named anime series. This collection of Anime Car Accessories, a famous fashion trend among youngsters, is one of the most popular right now. Customers are amazed by the auto accessory line's creativity and breakthrough in color combination, as well as the latest styles. Car accessories, such as interior and exterior parts and accessories, are important since they help preserve the vehicle and showcase the driver's personality. That is why it is critical to find the proper car accessories. What should you check for while buying car accessories? Are these car accessories current? These are the most likely questions you have. Let's take a look at the latest Ezcustomcar collection to find the solution.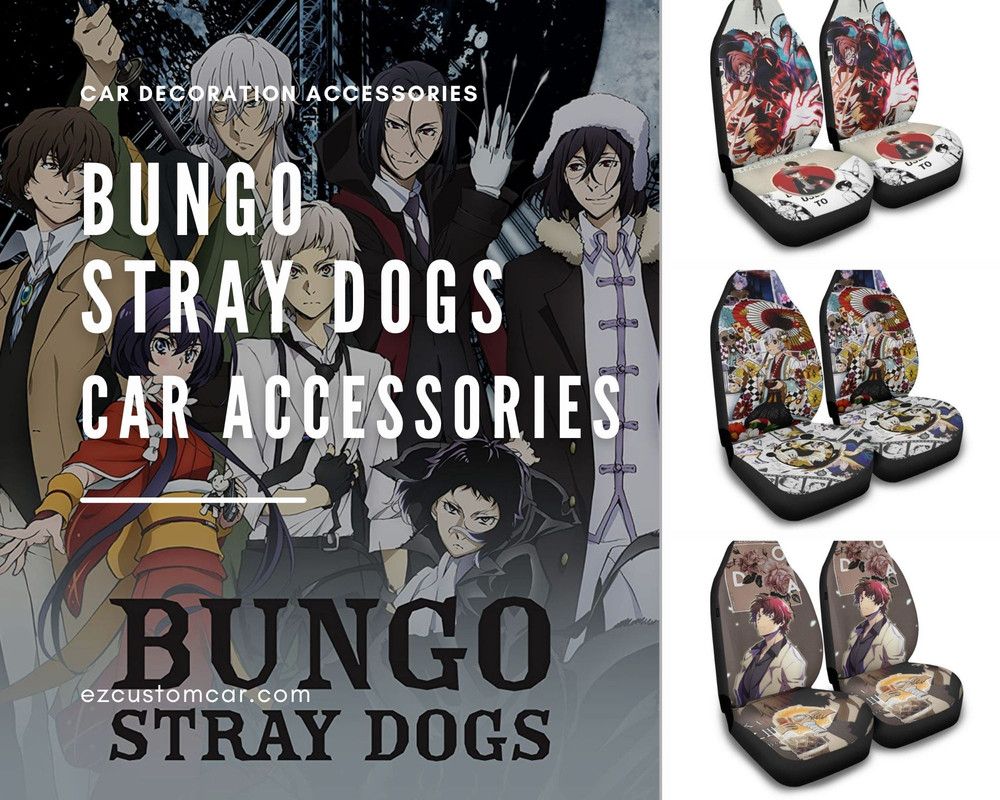 Bungou Stray Dogs is a popular manga and anime series with intriguing topics and a diverse cast of characters. The characters from the program served as the primary source of inspiration for this collection. Each item embodies the personality, spirit, and appearance of the character to let clients feel as though they know the character. Interior car accessories such as car floor mats and seat covers, as well as exterior car accessories such as car sunshades, are all developed in an entirely new way. Warm tones dominate the collection, giving the interior of the car a sense of space and openness. Your own personal style or a fictitious character you adore are also viable product alternatives. Characters are frequently shown overtly and subtly on the things themselves. The collection's trendy and youthful design also contributes to its popularity with customers. Instead of boring standard accessories, the Bungou Stray Dogs Car Accessories will make your car more fashionable and classy.

Those concerned about quality will be relieved to learn that all Bungou Stray Dogs Car Accessories are made of high-quality materials. When it comes to auto accessories, quality determines whether or not they are useful. To be sure, owning a car has a lot of obligations, such as keeping it in good condition and ensuring that it lasts as long as possible with the necessary accessories. Interior accessories, in addition to offering visual appeal, can have a utilitarian purpose by assisting in the maintenance of a clean car. In fact, a well-kept and sophisticated interior will put you at rest when driving. Furthermore, your car's outside accessories play an important role in its protection. Environmental elements will have an impact on the durability and freshness of your vehicle. To avoid this, make sure your car has all of the appropriate outside accessories.
As a result, when choosing both internal and exterior accessories, quality should be addressed.
Ezcustomcar.com
is the place to go if you're seeking
Bungou Stray Dogs Car Accessories
.
---
Button Color