Car Accessories are becoming more popular as the automobile industry expands. Owners of automobiles must take into account several factors and choose the finest accessories for their vehicles. You may question what accessories your vehicle requires and whether they are appropriate. If you want to know the answers to these questions, read on. For additional information and advice on selecting car accessories, see this article.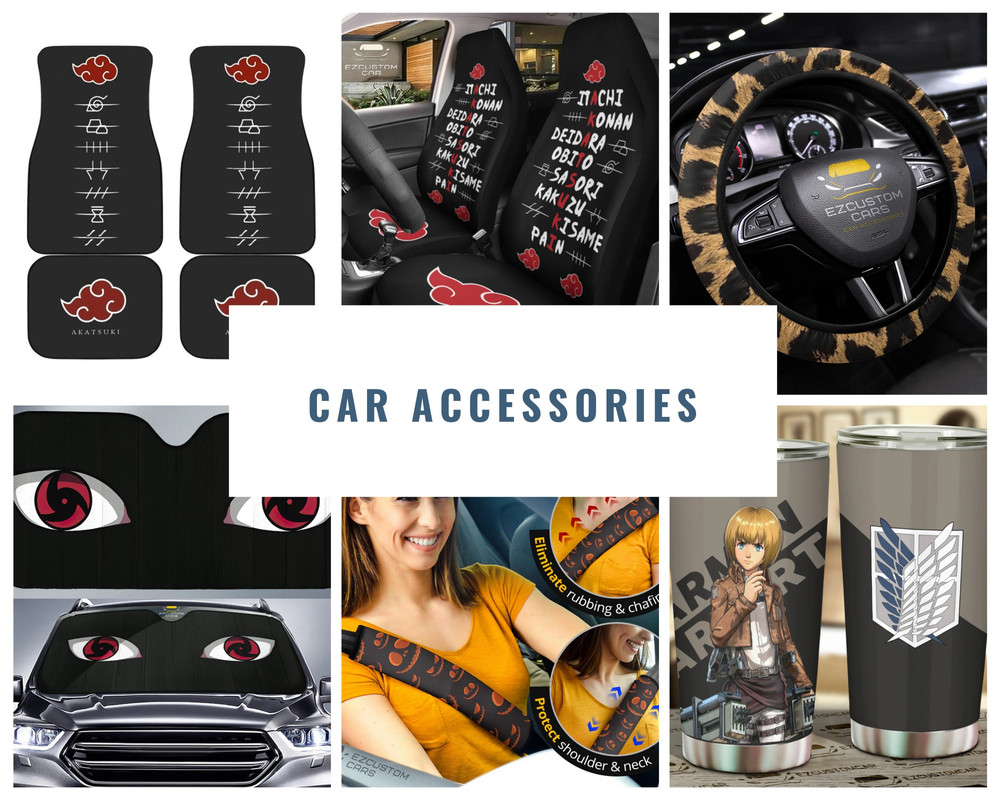 Accessories for your car
Your vehicle may be protected and maintained with a variety of accessories. Aside from that, accessories are also ornamental things that make your vehicle seem more opulent and elegant. Inside and exterior vehicle decorating has become a popular trend among young people all over the globe. It also helps to have a variety of accessories to represent your own unique taste and style. No one can dispute that it's a current trend to renovate and decorate your vehicle with a variety of different accessories. This is why Ezcustomcar offers a wide range of Car Accessories to suit the requirements of its clients. Due to their uniqueness, inventiveness, and quality, these designs rapidly get brownie points with consumers.
What are the best Car decorations accessories?
1. Car Seat Covers
It's not uncommon to hear the word "vehicle accessory" used to refer to an item that gives your automobile a fresh appearance. However, the truth is that taking care of the car's internal area is just as essential as taking care of the outside space. It is impossible to overlook car seat coverings as an interior accessory. To be honest, vehicle seat covers are one of the most important interior accessories in the top ten. Aesthetics are the most important advantage of car seat covers, and we can't forget about that. Your vehicle will seem more elegant and sophisticated with car seat coverings. As a result, instead of selecting a basic and conventional chair cover, we now have a wide range of options with a wide range of styles and colors. From color schemes to design motifs, Ezcustomcar has it all. Anime car seat coverings, for example, are perfect for Otakus who love anime. Aside from that, you may choose from a number of patterns and colors to show your individuality and preferences.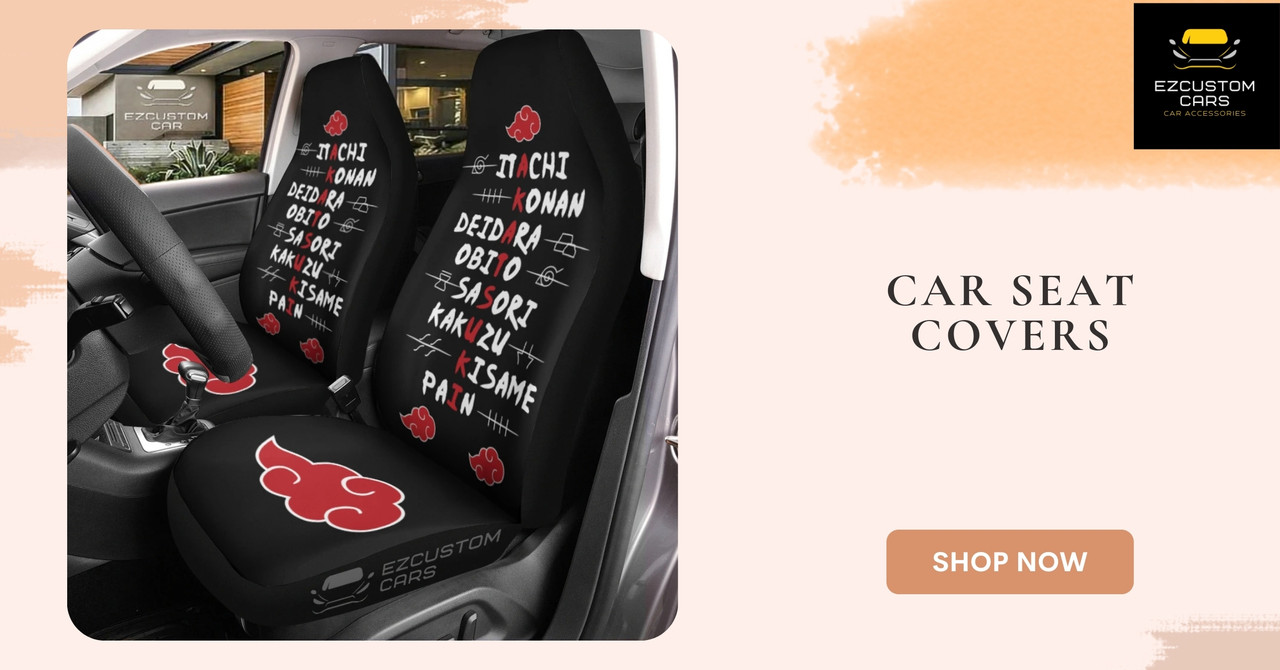 View more : Car Seat Covers.
2. Decal
Teenagers love vehicle decals, and it's a growing trend. Now, instead of utilizing layers of paint to create a new style for your vehicle, you can utilize decals. In fact, vehicle decals are one of the most popular exterior automobile additions because of their versatility, inventiveness, and ease of use. Using a car decal allows you to show your individuality and hobbies. It's also less expensive than painting, thus decal stickers for vehicles became one of the most popular additions among consumers. A wide range of decal templates are available from Ezcustomcar. There is a fresh, distinct style to these designs that cannot be matched to any other design. In addition, quality is one of the criteria that earns consumers brownie points. A thorough selection of raw materials and manufacturing techniques ensures that these vehicle accessories are of high quality for the consumers they serve.
3. Car Floor Mats
Interior vehicle accessories such as car floor mats are highly valued since they provide both protection and a pleasant driving experience. Ezcustomcar offers a wide variety of vehicle floor mats, including classic patterns and models that are well-known on the market. This collection has a wide range of styles, patterns, and colors. There are a variety of styles and themes to choose from, so consumers are sure to be drawn in by them. Moreover, you may fully personalize the vehicle floor mat according to your own style and needs. Anime Car Floor Mats, American Car Floor Mats, Firefighter Car Floor Mats, and many more are among the most popular and trusted designs by consumers.
Additionally, these car floor mats will wow you with their high quality as well as their low price. Ezcustomcar's designs are definitely distinguished by their plush and non-slip mats.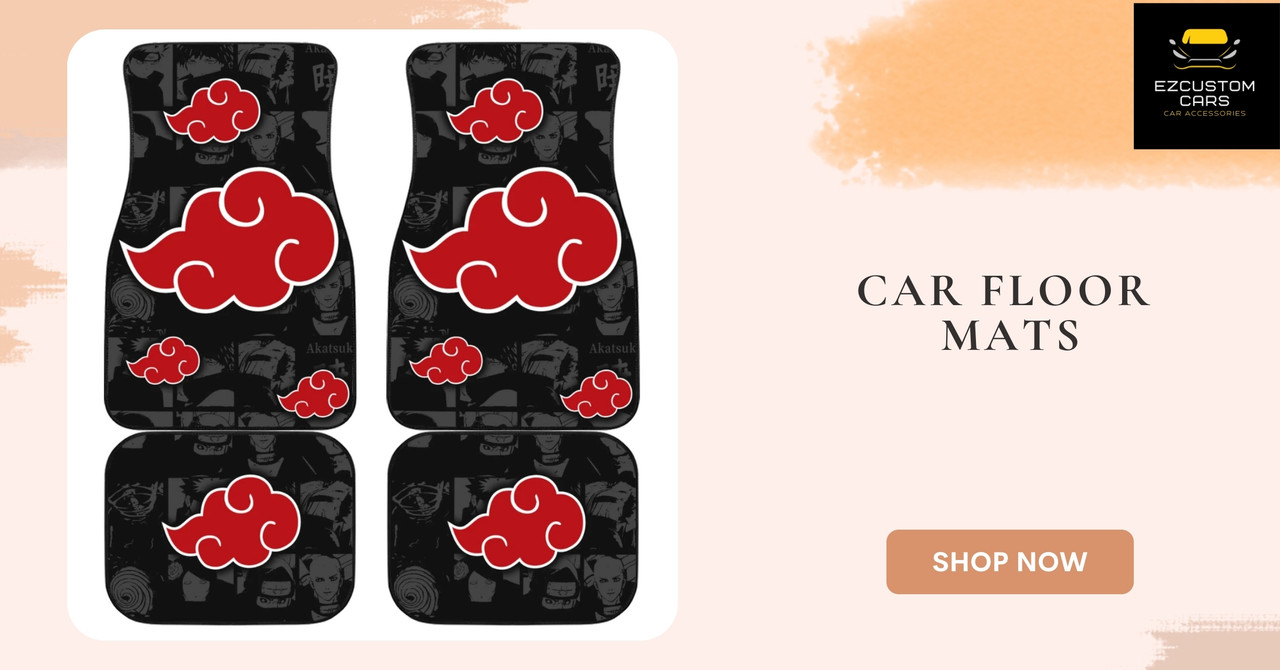 View more : Car Floor Mats
4. Car Windshield Sunshades
The vehicle sunshade is an essential piece of automobile exterior equipment that cannot be overlooked.
All-around protection for your windshield, the most essential component of your vehicle. It reduces heat absorption and radiates heat. Vehicle sunshades are a must-have external item if you want to keep your car durable and protected. Ezcustomcar's distinctive Custom Car Sunshade is gaining brownie points with consumers for its uniqueness and inventiveness. For their attractive appearance and great quality, these designs get a lot of positive feedback from the public. A range of diverse topics are reflected in the vehicle sunshades' graphics and colors.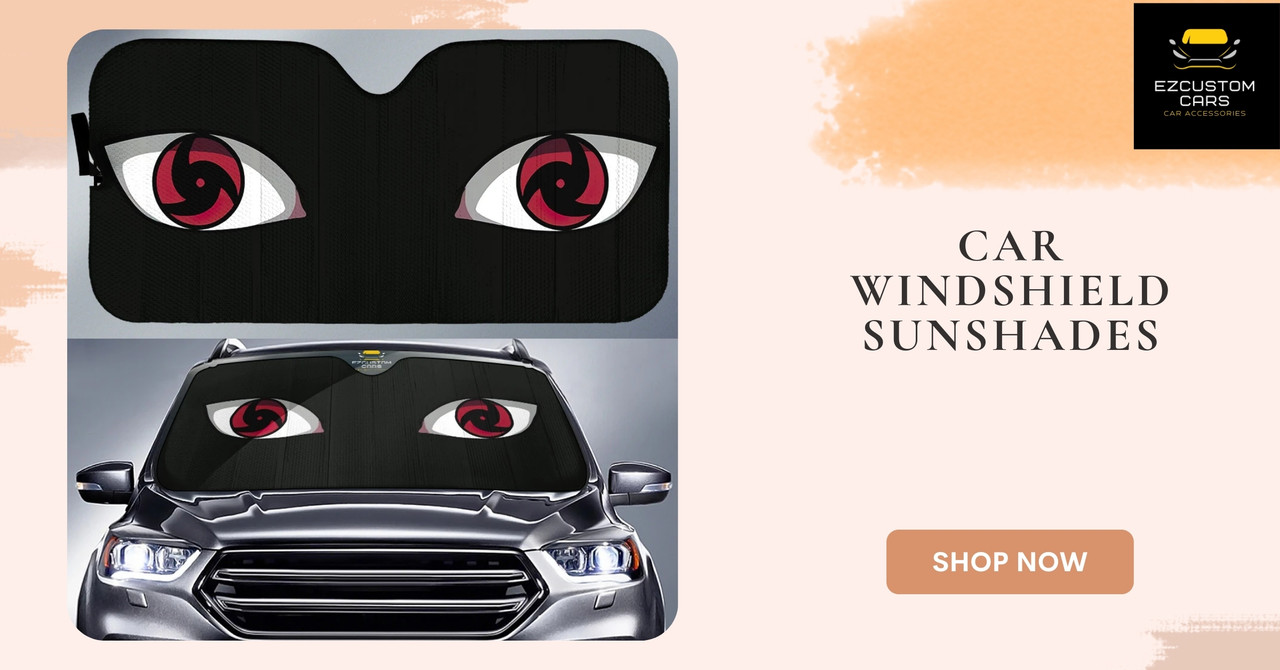 View more : Car Windshield Sunshades
5. Cup holder for car
In terms of inside vehicle accessories, a cup holder is one of the best. As a result of a lack of awareness, we tend to overlook the little details that may help complete our look. When it comes to vehicle accessories, cup holders are one of the most popular. Your and your car's visitors will appreciate the convenience and inventiveness it brings to the table. Little things may make a big impact. As a matter of fact, Car cup holders are available in a range of forms and colors.


6. Car Ornament
Car Ornament has been a popular interior decoration in recent years, with many individuals opting for it as a must-have. Because of their freshness and excitement, you and your vehicle visitors will like these decorations. You can now show your individuality and flair with car ornaments that aren't just pretty decorations. On Ezcustomcar, you'll find car ornaments ranging from traditional to contemporary styles and hues. Each of these designs may be customized to suit your own taste. They'll make your vehicle more luxury and elegant when combined with other interiors to create an ideal environment, resulting in an amazing experience.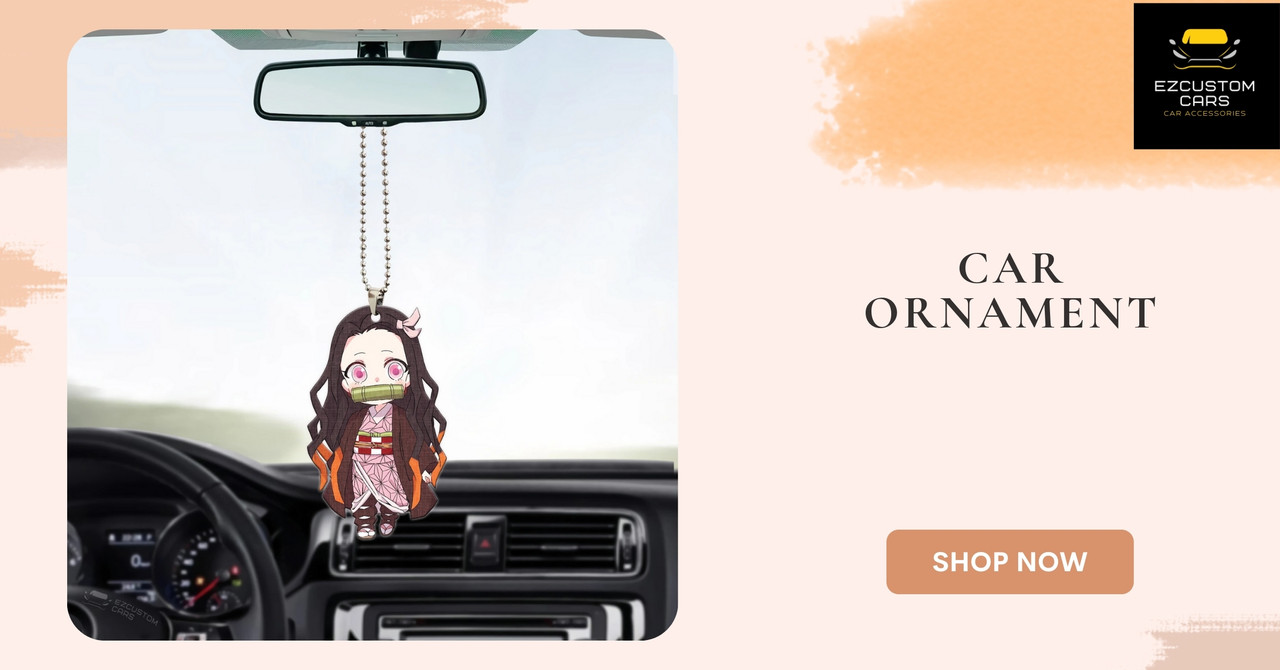 View more : Car Ornament
7. Steering Wheels Covers
The Steering Wheel Cover in your own design will enhance your inside vehicle space. With Ezcustomcar's designs, you can now show your taste and style instead of relying on conventional rudder covers with plain designs. When it comes to rudder shells, you'll be pleased with the variety of colors and textures available. Better yet, possess a collection of interior accents that you can mix and match to create a place with its own personality. Aside from that, these steering wheel covers are not only beautiful, but also a practical item to assist protect your hands while driving. Soft, waterproof and anti-skid, these Steering Wheel Covers are a must-have vehicle accessory.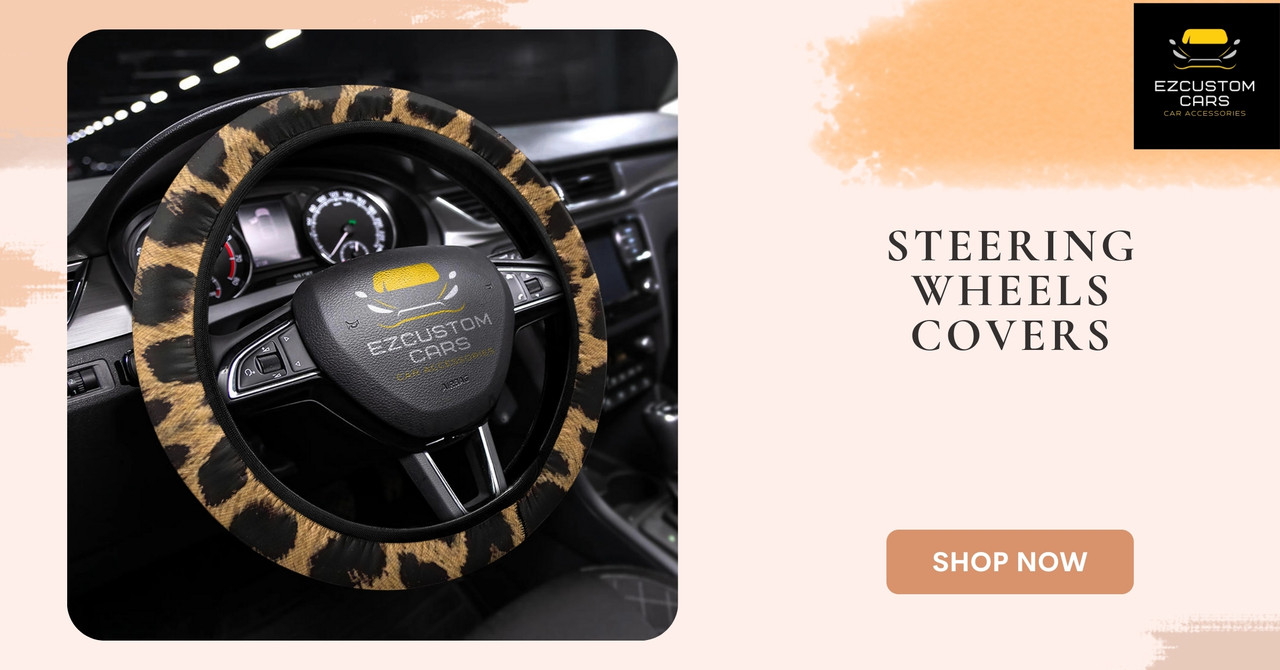 View more : Steering Wheels Covers
8. Seat Belt Covers
How many Seat Belt Covers do you have? There are now Seat Belt Covers available in a variety of materials and colors to replace the traditional seat belt. Ezcustomcar's unique Seat Belt Covers provide a great deal of convenience to the user. Let's start with the aesthetics. Your car's interior becomes more luxury and sophisticated with the usage of these covers, which are created with distinctive creative themes. They are also constructed of soft, flexible fabrics that make them comfortable to wear.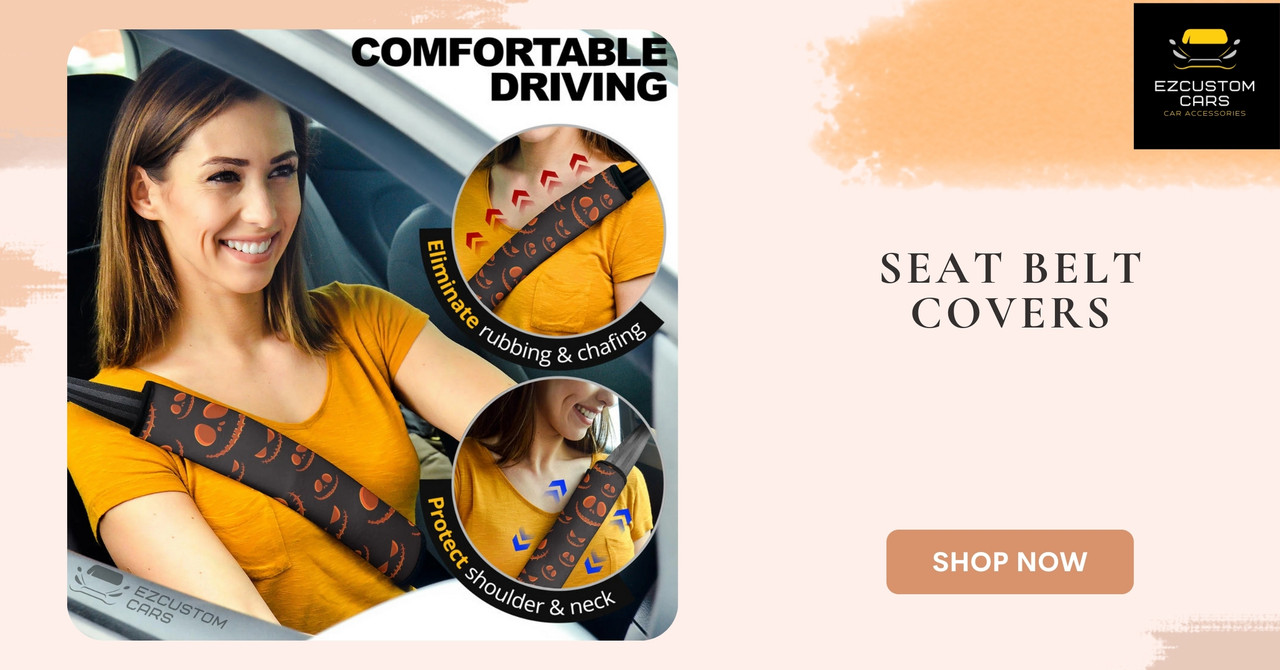 View more : Seat Belt Covers
9. Car Tumblers Cup
Don't forget that tumblers cup is one of the many vehicle interior decorations that may improve the appearance of your car. Additionally, these cups provide a number of advantages when driving. The most distinctive aspect of these cups is that they are decorated with unique and eye-catching patterns.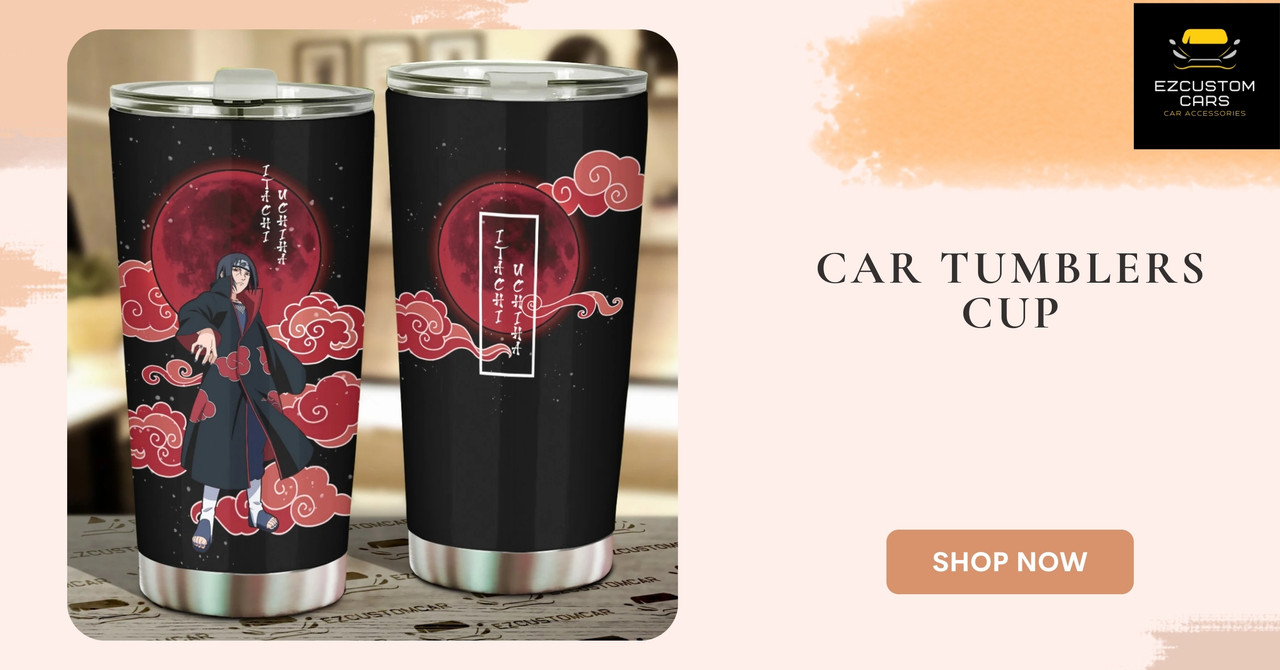 View more : Car Tumblers Cup
So, are car accessories really necessary?
For the following reasons, having your own styled Car Accessories is important.
Enhance the car's appearance
Decorating your car's inside is a must nowadays if you want to make it more attractive, luxury, and elegant. And vehicle accessories are a key component in doing this. In reality, nowadays, the aesthetic element plays a very significant part in a business's decision-making. If you go into a vehicle without any accessories, you'll immediately notice that it's too bland and uninteresting to spend time in. Even when you're not driving, having a well-designed, eye-catching interior is a certain way to boost your mood. Furthermore, wearing these items demonstrates your fashion sense and sense of style.
Safeguard your car
Interior and exterior vehicle accessories serve an essential function in protecting your car from external influences and preserving its durability and newness, in addition to its aesthetic value. Almost all of the items listed above are not only ornamental, but they also provide some advantages. Vehicle sunshades, for example, are a must-have for protecting your car from the sun and preventing heat absorption. In addition to adding to the aesthetics, seat covers help preserve and maintain your car's interior area. Because of this, vehicle decorations are a need that cannot be overlooked in any way.
car accessories texture
It is frequently the case that vehicle decorations are manufactured from high-quality materials in order to provide convenience to consumers while also being ecologically beneficial.

Car accessories: how do you choose them out?
When it comes to choosing the finest auto vehicle accessories there are a number of things to consider in order to make the correct decision.
Colour
It's no secret that color is an essential consideration when selecting vehicle decorations. When selecting any item, color is always a top concern, particularly when it comes to home decor. To create a beautiful and airy common space in a vehicle, the choice of accessories, the color of the accessories in the car, must truly blend and match. In addition, when it comes to the car's external accessories, it's important to pay attention to the car's primary color tone. Outer accessories must also be in harmony and balance with each other.
Material
As with any vehicle addition, whether it is for aesthetic reasons or practical ones, material selection should be considered. To have the greatest experience, you need high-quality materials. Typically, various materials are used for different types of accessories. Because each material has its own benefits and drawbacks, it's important to do your homework before making a purchase.

At the same time, it allows you to show your fashion sense, personality, and preferences. Don't disregard it.
Supplier
Use a reliable provider to discover your ideal vehicle accessories. A trustworthy and dependable provider with a knowledgeable team will provide you with a wide range of options to consider. Hence, before making a purchase, you should carefully examine the product provider.
Car accessories: where should you shop?
Today, there is a wealth of information available on different e-commerce sites regarding Car Accessories. However, you should do your research to discover the most trustworthy providers available in your area.
A broad variety of goods and consulting services are available from Ezcustomcar, including the finest items at the lowest rates. There are many different designs and colors to choose from when decorating your car, and our expert staff can help you choose the right one for your car's theme. Please visit our website for more product information as well as comprehensive reviews from consumers who have already tried the product.
Conclusion
Ezcustomcar hopes that the above post will provide you with some ideas on how to select the finest Car Accessories for your vehicle. You're welcome for reading!