Anime Car Accessories have become a trendy trend among young people. Interior and exterior car components are designed to resemble anime characters in order to attract new customers and bring a new fashion viewpoint to the automobile industry. Most of the time, these designs are displayed in striking and original ways. Anime Car Accessories give elegance and sophistication to your vehicle while also showcasing your personality and flair.
We have left with a variety of impressions thanks to the anime world's various and appealing character development tactics. EZCustomcar can develop one-of-a-kind products because each series has its own distinct color and style. Check out the article below to locate the best Anime Car Accessories under $40 for you and your car.
I. TOP REVIEW OF ANIME CAR ACCESSORIES
Car Accessories for Anime Fans that are distinctive, cohesive, and complete with the highest aesthetic are designed by EZCustomcar. We're also car nerds who design and manufacture car interiors and accessories. We take an innovative approach to product creation by looking at it from both the production and the use points of the system.
For years, EZCustomcar has accumulated an inventive design team that has a deep understanding of the automobile industry and the market. This team provides concepts and completely new product styles for EZCustomcar. As a result of our never-ending quest for fresh concepts, we remain at the forefront of the booming Anime Car Accessories and Anime vehicle interiors market.
II. LIST ANIME CAR ACCESSORIES UNDER $40
Anime Steering wheels Covers may appear to be only decorative, but they actually have a number of practical advantages. In addition to adding a splash of color to the driver's seat, a steering wheel cover has the following practical benefits.
After a day in 90-degree heat, holding a steering wheel can be a real agony. Unlike leather or vinyl, a cloth steering wheel cover does not absorb heat, thus it does not feel hot to the touch on a hot summer's day. In addition, sweat won't adhere to your skin like it would if you used a gripping cover.
Conversely, a fabric steering wheel cover will keep your bare hands warm while you wait for the heat to blast through the vents if you aren't prepared with winter gloves.
A padded steering wheel can ease hand pain in the same way that a foam pillow can support your neck and a plush chair cushion may provide gluteal and lumbar relief. It is common for steering wheel coverings to contain a soft foam layer that cushions your hand and reduces cramps, stiffness, and tiredness while you grip the wheel for hours.
The material of a car's original steering wheel can dry up, crack, and disintegrate after years of use, frying in the sun, and palm filth. A cover for your car's steering wheel might protect it from further harm if it hasn't been properly cared for.
The effectiveness, comfort, and safety of a steering wheel cover all rely on the type and unit you purchase. A high-quality product with favorable reviews and a proven record for dependability and longevity should be your goal if you decide to buy one.
Best Seller Anime Steering wheels Covers under $40 at EZCustomcar: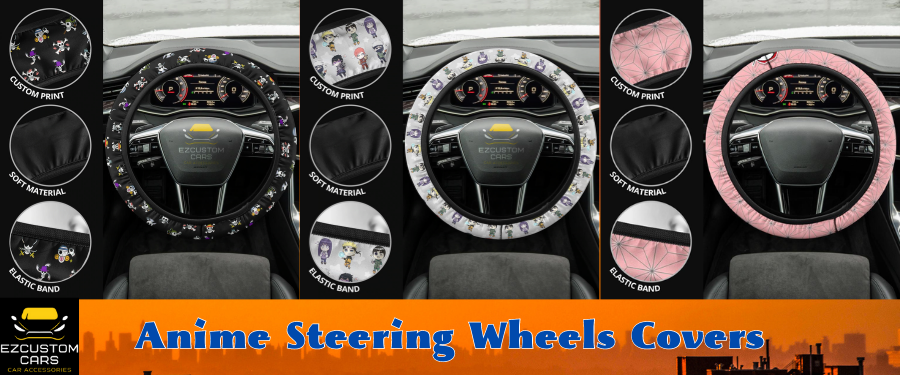 All vehicles require seatbelts for safety reasons. In the case of a collision, they are intended to lessen or eliminate serious injuries. They also prevent passengers from being flung out of the car by using seat belts. Wearing one, on the other hand, can be uncomfortable in some situations. As a result, many drivers choose not to use seat belts because they worry about their necks getting chaffed. A seat belt cover or pad is our answer to this problem.
If you are looking for the best Anime Seat Belt Covers under $40 at EZCustomcar, you can be found by continuing to read: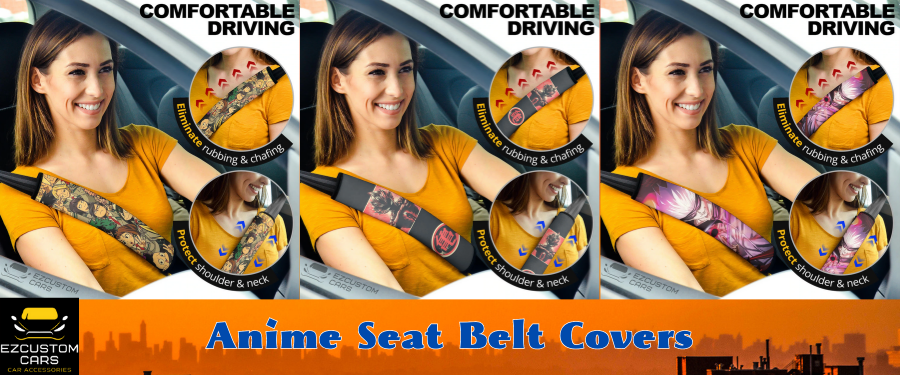 Anime Car Ornament can be used as a car accessory or as home decoration, depending on your preference. As an accessory for your home or workspace, this ornament is the right size for a car window decoration. Explore our collection of Anime Car Ornaments, which include your favorite anime characters. All products are custom-made to order and handcrafted to the highest standards of excellence. For added protection, the product is composed of clear acrylic and printed on both sides. A 3.5 x 3.5-inch acrylic sheet will be used to cut all the molds.
Best Seller Anime Car Ornament under $40 at EZCustomcar: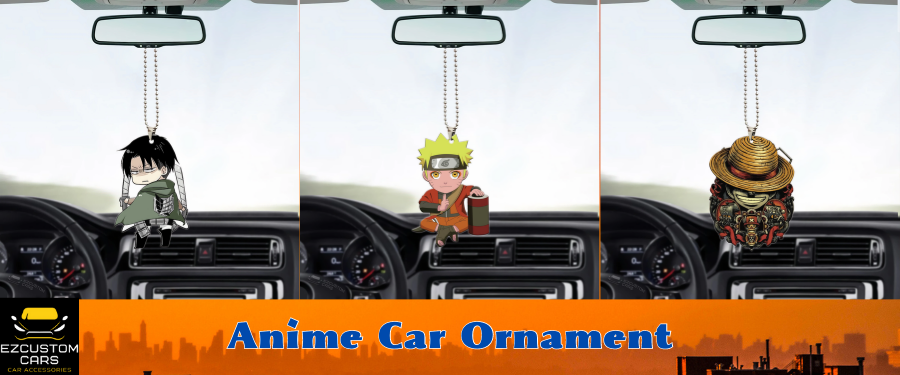 The mirrored shade on your neighbor's car has you scratching your head. You might be asking, "How exactly does this assist my car to survive the scorching heat of the summer?" Anime Car Windshield Sunshades may not seem like much, but they can actually reduce the temperature inside your car by up to 15 degrees Fahrenheit. Your car won't feel like a refrigerator when you get in, but you won't be frozen like a popsicle either.
In addition to keeping your car's interior cool, Anime Car Windshield Sunshades provide a slew of other advantages. You don't need oven mitts to touch the steering wheel. It's a steering wheel cover that won't go out of style. Wearing shorts does not make it unsafe to sit down. You won't have to duct tape the seats since they won't tear or break. Even if you leave it on all day, your upgraded stereo will still work. The dashboard would not budge in the areas where it should.
The sun ages your car in the same way that it ages your skin: both are affected by UV radiation. Anime Car Windshield Sunshades'll protect your car's interior, keep you cool, and save you from overheating in the summer.
Best Seller Anime Car Windshield Sunshades under $40 at EZCustomcar: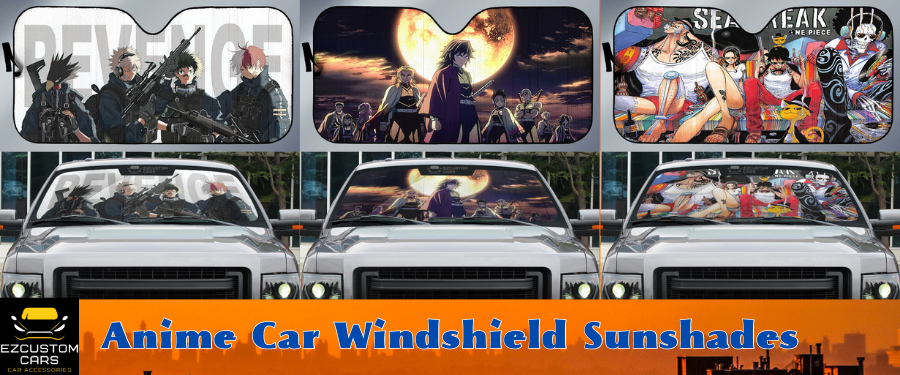 Compact and convenient, the Anime Car Tumblers Cup may simply fit into the car's accessible recess. Vacuum-insulated stainless steel and double-walled vacuum insulation keep drinks hot or cold all day. When you only have one hand, you may easily open and close the leak-proof lid with a single press. This tumbler is dishwasher safe because of the BPA-free materials. EZCustomcar's Anime Car Tumblers Cup are made-to-order and of the best possible quality using traditional handicraft techniques.
Our best Seller Anime Car Tumblers Cup under $40: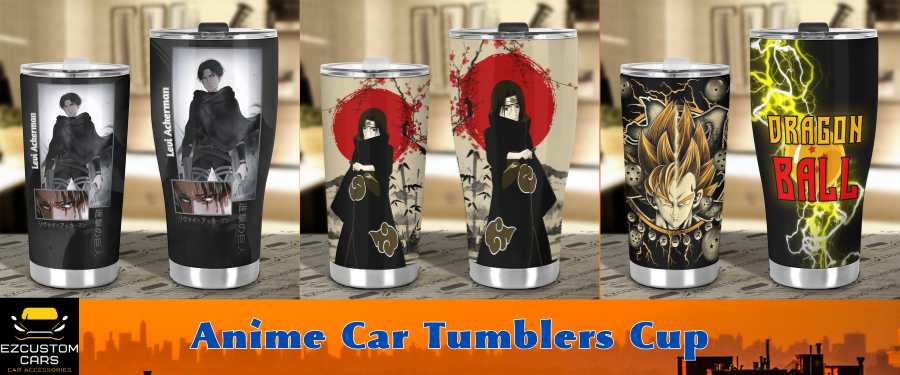 The Anime Car Sticker craze began in Japan but has recently become more popular in the West as anime has gotten more popular in the United States. Cars with Anime Car Stickers will stand out, and their owners will be able to show off their own sense of style.
Use Anime Car Stickers to adorn your car's back windshield, water bottles, helmets, and a slew of other items, from laptops and phones to tablets and binders. Prints made with solvent inks that are fade-proof, waterproof, and scratch-resistant are produced. There are four sizes available: 6x9 inches, 8x12 inches, 12x12 inches, and 12x14 inches.
Best Seller Anime Car Sticker under $40 at EZCustomcar: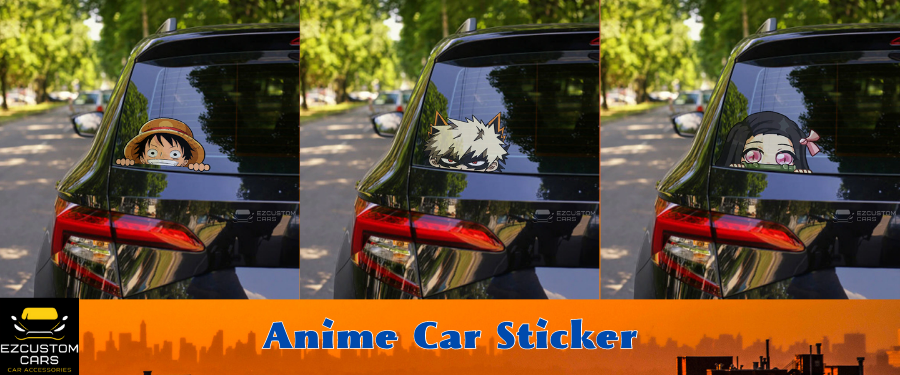 III. CONCLUSION
Your Anime car accessories not only make it more visually appealing but also reveal a lot about your personal style. As well as providing protection, exterior accessories can enhance the look of your car. Many factors must be taken into account while purchasing car accessories. Anime Car Accessories is a popular trend among young people because of their unique appearance. Anime-inspired accessories are available in a variety of styles to fulfill the needs of clients.
Anime Car Accessories based on popular cartoon characters are readily available. Customers, particularly those who are fans of anime, have generally been enthusiastic about the collection thus far. Customers can choose from a variety of products for both the inside and outside of their homes. Their clients enjoy the color schemes in these designs. Your style can be shown through the images, which represent the story's characters in unique ways. It's easy to tell one character from another because they all have such distinct personalities and fashion senses.
Anime Car Accessories from Ezcustom Car are continually up-to-date to give your car the most up-to-date and fashionable appearance. In addition, each design features a distinct aesthetic that lets you fully express your personality.
-----------------------------------------
Support and follow the social channel.
Email: support@ezcustomcar.com
Instagram: https://www.instagram.com/ezcustomcar/