Do you like anime and want to add some vehicle accessories to your collection, but aren't sure what to buy? I can promise you that this post will be your life preserver.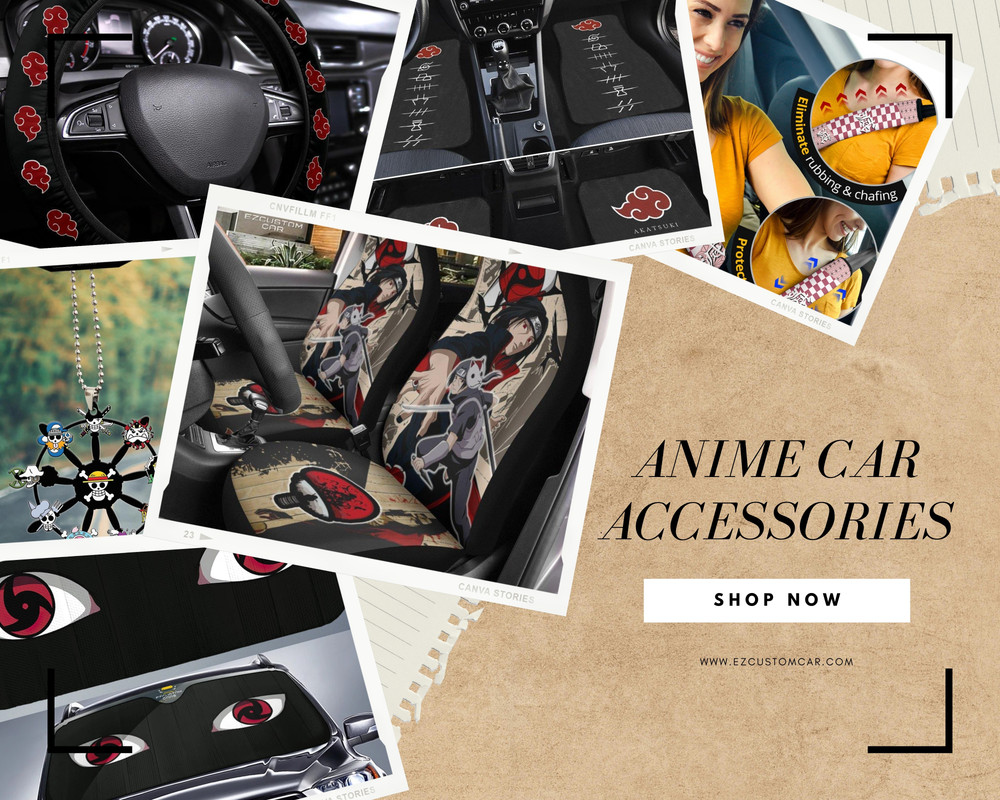 View more : Anime Car Accessories.
It is impossible to argue that demand for auto rejuvenation is growing steadily.
Anime-themed accessories, on the other hand, demonstrate your originality as well as make your vehicle distinctive.
The post today will discuss the anime-related vehicle accessories that you should absolutely get your hands on. How about we discover!
ANIME CAR ACCESSORIES INTERIOR
It is a waste of money to buy extras for your vehicle if you want to enjoy a luxury experience.
Anime vehicle accessories usually find themselves at the top of the price lists but they are worth the money for their superior quality, range of styles, and superior customer service.
Being a huge fan of anime, the fun you will have with anime-related car accessories will be made that much better by immersing yourself in the anime universe.
If you're an anime fan and you want to buy anime-related merchandise, it's preferable to purchase from a reliable online store with a clear location, a good reputation, a product guarantee, and a transparent quote.
You may get anime-related vehicle accessories in thousands of different models at Ezcustomcar.
ANIME FLOOR MATS 
To rev up your journey, a must-have accessory is car carpets. Food and dust that are unhealthy for both the driver and the vehicle will be minimized by the impact of car mats.
Car mats, in addition to their aesthetic properties, need to be chosen based on safety considerations. In addition, the black rubberized back of the vehicle mats is intended to enhance grip and prevent sliding.
If you're a fan of anime, anime car carpets made of short pile fake fur fabric are a must.
The short pile fake fur vehicle carpets used to make anime have remarkable durability. You may get an anime car mat from Ezcustomcar at once.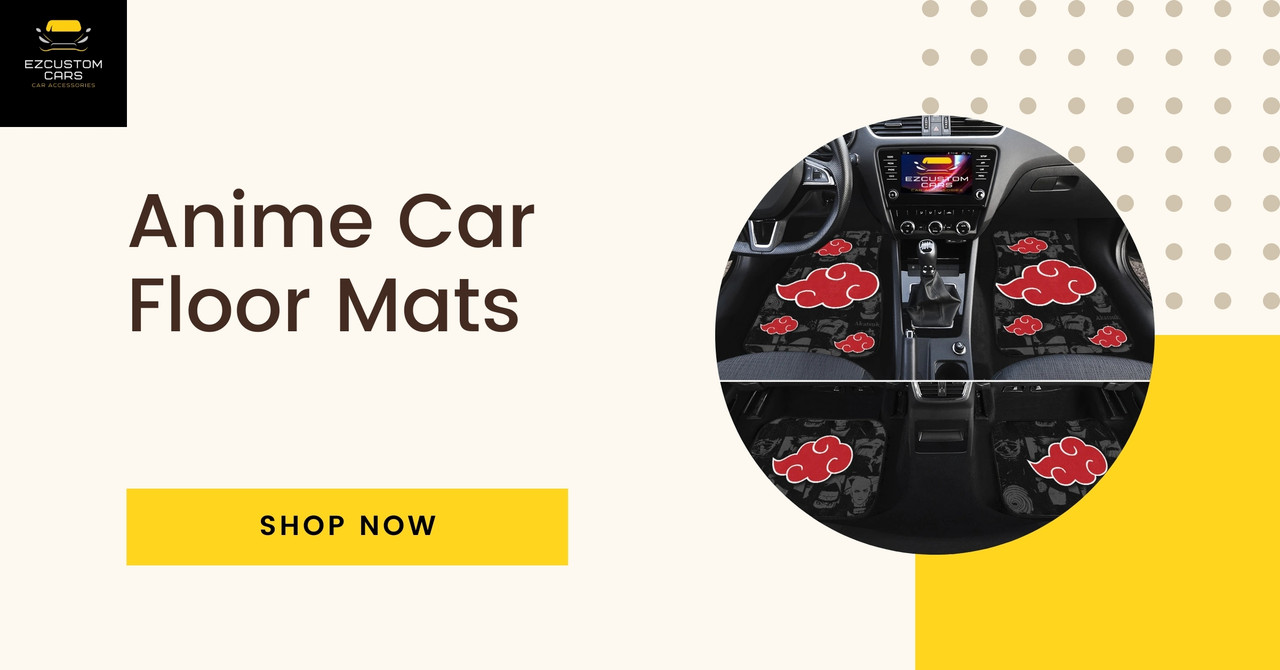 View more: Anime Car Floor Mats
ANIME CAR SEAT COVERS WITH ANIME CHARACTERS
A must-have for any anime fan is a seat cover for the vehicle, and one of the best is an anime seat cover.
Purchasing an anime car seat covers is a good option if you want to make your vehicle more unique.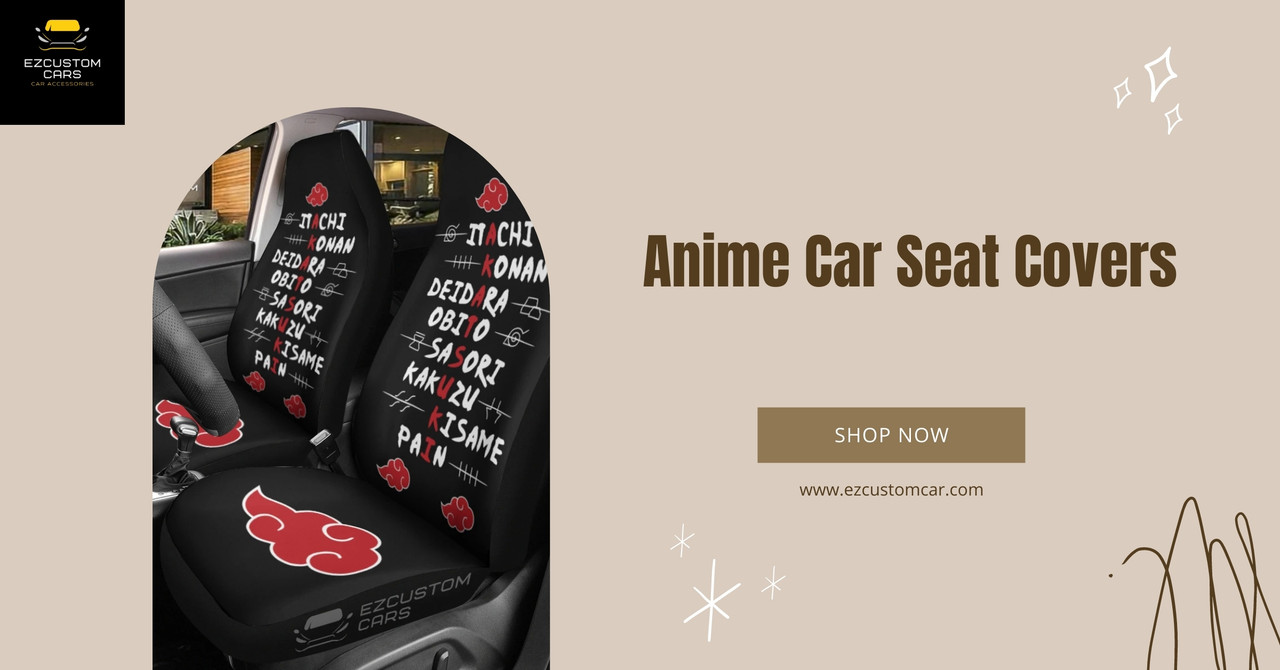 View more: Anime Car Seat Covers 
ANIME STEERING WHEEL COVER
You may have sweaty hands if you drive for a long period, which seriously affects the driving procedure.
Many people see steering wheel covers as a way to save individuals with sweaty palms from themselves.
The leather on the steering wheel is protected as well as the vehicle is being made more maneuverable.
A steering wheel cover also allows for the normal turning radius of steering wheels to be maintained.
Many motorists put steering wheel covers on to help them have a more secure grasp on the wheel.
Your friends will be astonished by the detailed anime patterns or symbols on the steering wheel cover.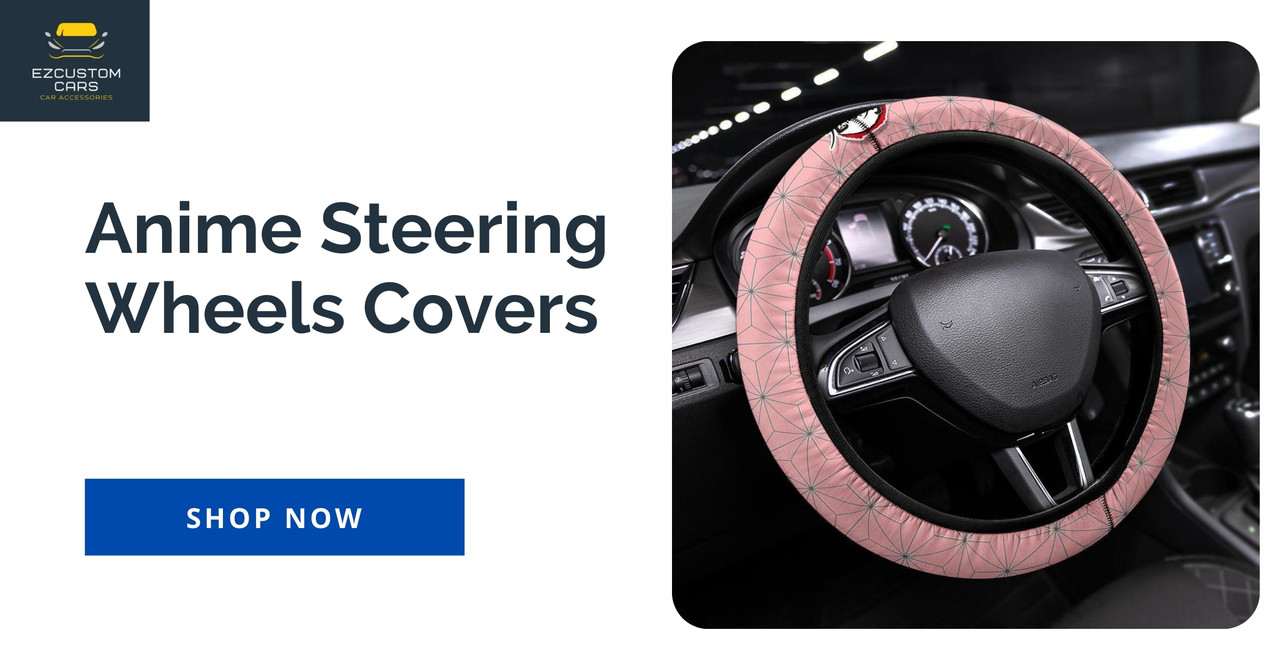 View more: Anime Steering Wheel Cover
ANIME CAR ORNAMENT
An anime vehicle decoration creates more fun and casual environment in the automobile. To preserve your favorite anime car decoration in great condition for longer, you should choose one manufactured from 100% PVC material.
To give to your loved ones on their birthday or other special occasions, look for anime car decorations as a fun present. Car decorations shaped like anime characters emit a fragrance to help drivers relax.
View more : Anime Car Ornament 
ANIME CAR WINDSHIELD SUN SHADE
Among anime vehicle accessories, the anime car sun visor is impossible to overlook. Visibility and visual quality in cars are heavily impacted by the vehicle sun visor.
Choosing an unsuitable product from a dishonest seller is quite likely to cause an accident since it makes it difficult to see.
A vehicle sunshade for anime cars may save AC use and preserve the driver's eyesight. 
Furthermore, the car's glass is the surface exposed to solar radiation and it is the area where the most heat is absorbed.
The passage of radiation through the windshield of a vehicle and onto human skin causes catastrophic harm.
By selecting a top-quality car sun shade for your vehicle, you can reduce the heat absorbed by almost 50% and keep your skin safe from solar radiation passing through the glass.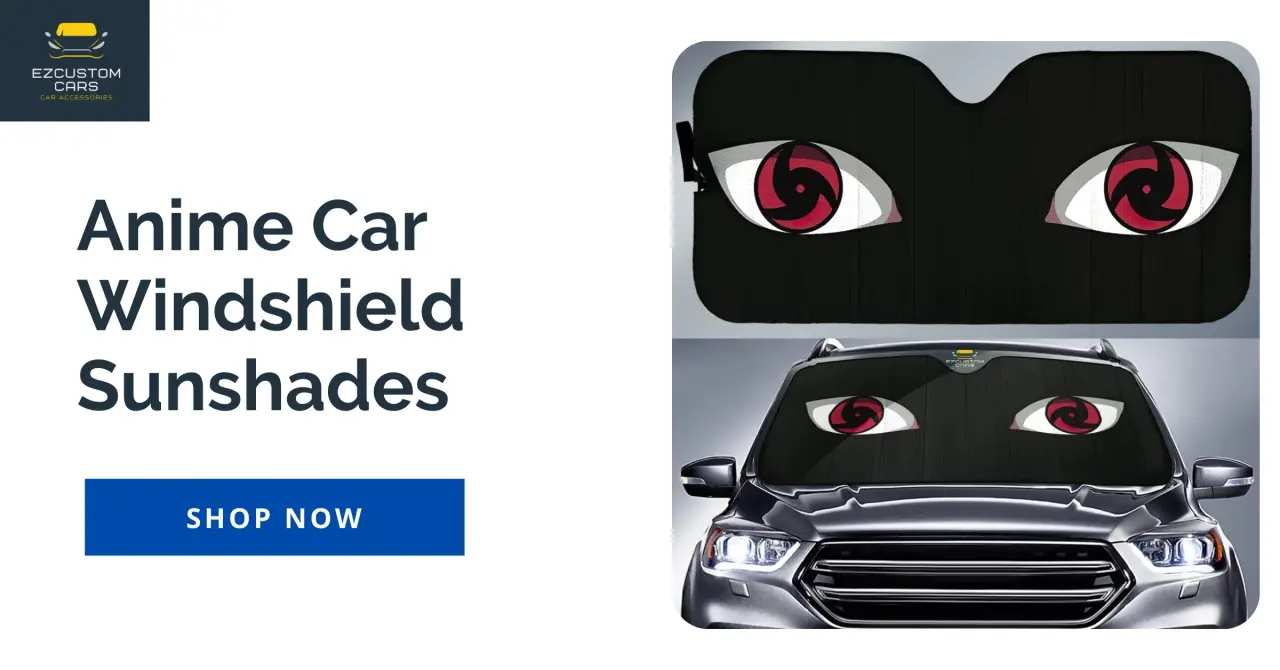 View more : Anime Car Windshield Sunshades
ANIME SEAT BELT COVERS
One of the primary functions of the anime seat belt cover is to provide a means of protecting the driver and passengers while also making the vehicle more harmonious and distinctive. When purchasing an anime seat belt cover, it is important to consider the product's material and its overall quality.
I would advise you to choose a higher-quality neoprene mix, such as Ezcustomcar's anime seat belt cover.
Besides protecting passengers, anime seat belt covers also provide comfort for those who use them.
No feelings of a tense stomach or difficulty breathing is possible while utilizing Ezcustomcar goods. Ezcustomcar's anime seat belt cover can be simply removed, washed in cold water, and dried.
Ezcustomcar provides many unique designs, textures, graphics, and amazing anime car accessories.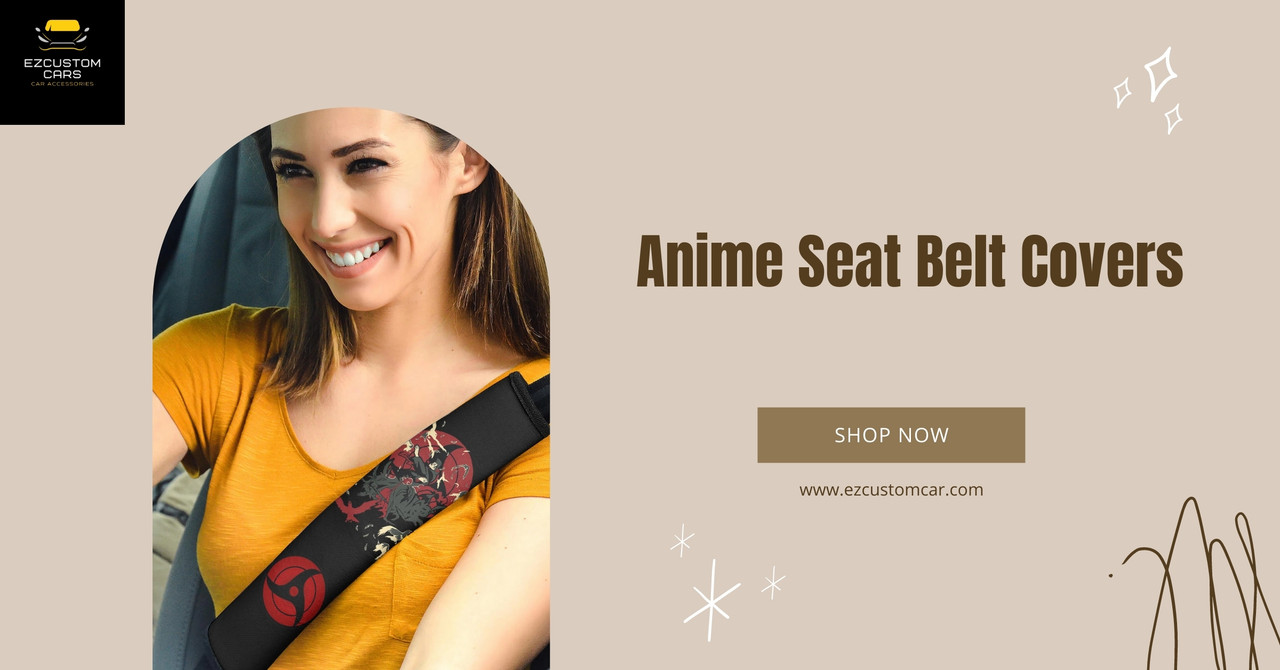 View more : Anime Seat Belt Covers
ANIME CAR ACCESSORIES FROM THE MOST POPULAR ANIME SERIES
One Piece accessories for car
A comic book about the voyage of Captain Monkey D. Luffy and his crewmates to discover strange riches in the sea.
Monkey D. Luffy raises the banner of justice, sides with the powerless, and exposing the machinations of a treacherous political cabal.
A one-piece vehicle accessory will provide you many creative ideas on how to travel, thanks to the surprising interpretations One-piece offers.
View more : One Piece Car Accessories.
Dragon Ball accessories for car
Dragon Ball is a well-known Japanese anime about the son of a farmer and martial arts master named Goku who searches for the Dragon Balls and comes of age.
The good people of the globe oppose Goku because they want the Dragon Ball's wishes to control the world. Car accessories related to Dragon Ball will remind you of your favorite tales of heroes who fought to not quit.
 View more : Dragon Ball Car Accessories.
My Hero Academia accessories for car
The situation of My Hero Academia is a nonstop battle between superheroes from UA High and members of the Humanize Organization, with the globe littered with the "Ideo Trigger Bombs" which have been implanted in humans.
the protagonist Izuku Midoriya always dreams of becoming a hero, but because of his physical limitations, he cannot enroll in U.A. High School.
But, in the end, he was able to take advantage of a chance to alter his situation that had previously appeared unattainable.
My Hero Academia vehicle accessories will remind you of Izuku Midoriya and other characters while you drive, which will make the trip much more interesting.
 View more : My Hero Academia Car Accessories.
Death Note accessories for car
Death Note chronicles the life of Yagami Raito, a gifted student who receives a Death Note from Ryuk and decides to use it. After then, Raito became Kira, the one who has the power to decide whether or not someone lives or dies.
L's immense ability to decipher the thoughts of others while the main character, Raito, is struggling in an incredible fight with the eccentric detective, L. It's hard to ignore the appeal of this anime while you are driving around in a vehicle with a Death Note theme.
  View more : Death Note Car Accessories.
Bleach accessories for car
Bleach is a Japanese manga series that follows the travels of Kuchiki Rukia, who has been tasked with escorting souls to the afterlife and fighting bad spirits.
The main character of Bleach, Kurosaki Ichigo, will take you to a war-torn planet, where Aizen, Shinigami, and Espadas constantly battle. Bleach vehicle accessories will instill a fresh sense of wonder since they are inspired by an old Japanese literary classic.
 View more : Bleach Car Accessories.
Summarize
Did you choose the best one yet? To assist you to make the finest choices, the following anime vehicle accessories are ideal. Thank you for taking the time to read this article.